About Volcano, Big Island of Hawaii
Volcano Village
This charming community is a mix of scientists, artists and local entrepreneurs with a variety of restaurants and cafes. The village blends almost imperceptibly into the native-forested landscape. The whole area has been designated by the United Nations as an International Biosphere Reserve and a world heritage site.
Volcano National Park
Hawai'i Volcanoes National Park, established in 1916, displays the results of 70 million years of volcanism, migration, and evolution — processes that thrust a bare land from the sea and clothed it with complex and unique ecosystems and a distinct human culture. The park encompasses diverse environments that range from sea level to the summit of the earth's most massive volcano, Mauna Loa at 13,679 feet. Kilauea, the world's most active volcano, offers scientists insights on the birth of the Hawaiian Islands and provides views of dramatic volcanic landscapes. Over half of the park is designated wilderness and there are many unusual hiking and camping opportunities. In recognition of its outstanding natural values, Hawai'i Volcanoes National Park has been honored as an International Biosphere Reserve and a World Heritage Site.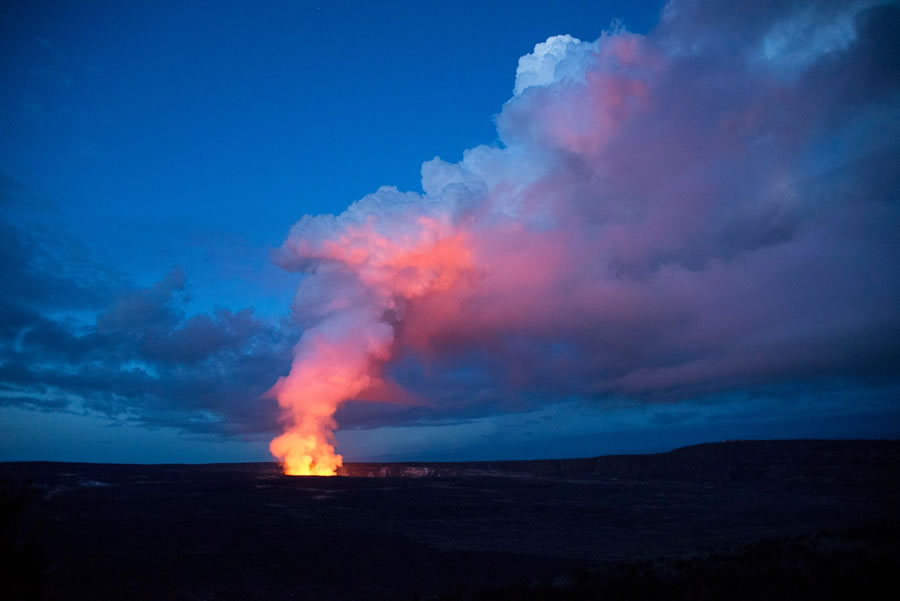 Climate
The park has distinct climate zones that vary according to elevation. Visitors should be prepared for a wide range of weather conditions. Weather at the summit of Kilauea (4,000′ elevation) fluctuates daily and can be rainy and chilly any time of the year. Temperature varies by elevation and it is generally 14 degrees cooler at the summit than at sea level. The coastal plain at the end of Chain of Craters Road is often hot, dry, and windy. Bring rain gear, light sweaters or jackets, sturdy shoes, hats, water bottles, sun glasses and high UV factor sunscreen. For the island weather forecast, call (808) 961-5582 .
" …Volcano MIst Cottage is a totally private sanctuary set in the lush greenery of the Kilauea Forest Preserve, with volcano mists swathed around it like a halo…"