Aloha ~ from Volcano on the Big Island of Hawaii
Volcano Mist Cottage, near the summit of Kilauea, celebrates the natural life as a simple, rugged, handcrafted home designed with extraordinary attention to detail and constructed with great respect and reverence for the elemental Spirits present in Hawai'i: Earth, Wind, Fire and Water. We offer premiere Volcano Village lodging, artfully fusing the qualities of a 5-Star luxury hotel and villa with the amenities of a vacation home rental, the romantic charm of a small inn or bed and breakfast, and the absolute privacy of a personal hideaway in the Hawaiian highlands.
Play music …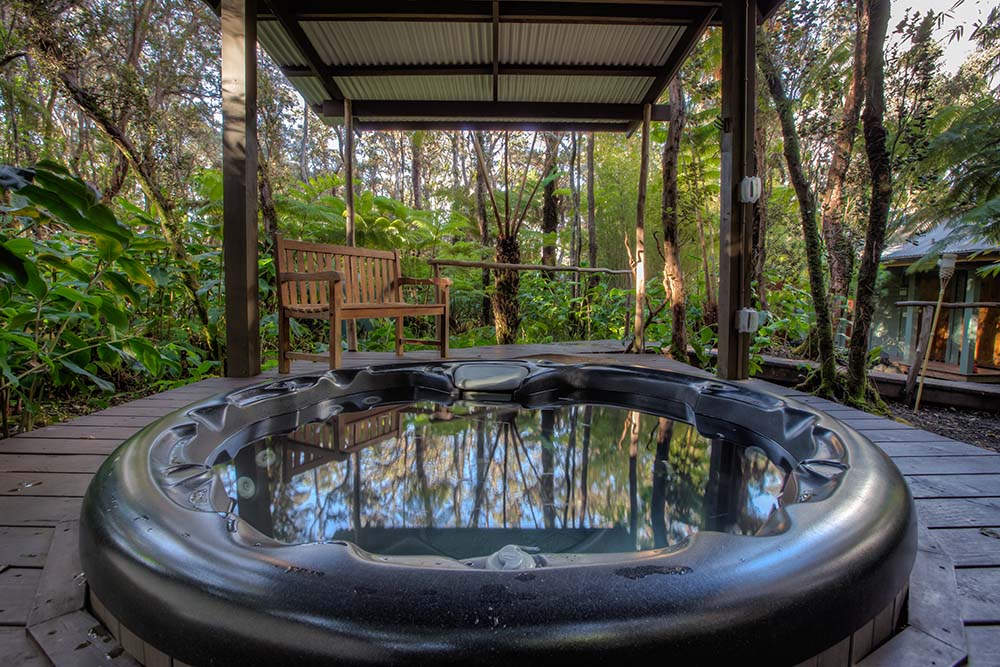 Our private and intimate eco-resort offers sanctuary from the stress and strains of everyday life. Listen to the sweet singing of birds long gone from the lowlands.
Walk barefoot on our custom cork floors or bare naked on the garden path to our spa quality "Temple Bath" featuring a forest-side jacuzzi tub and separate outdoor shower, both of which utilize filtered rainwater captured on our premises.
Sleep on a cloud with multi-layered bedding providing the ultimate in comfort and warmth.
Relax outdoors in our deluxe lanai living room. Celebrate nature enveloped by volcano mists, vibrant tree ferns, orchids and ginger blossoms.
"…this is an experience in touching the Earth!"
A warm welcome to you, our special guests at Volcano Mist Cottage. We hope your stay in our private little sanctuary is one you will fondly remember. We thank you for thinking "mauka" (to the mountains) and taking the time to enjoy the incredible richness and diversity of the natural environment here in Volcano Village. Nestled in the Kilauea Forest Preserve adjacent to Hawai'i Volcanoes National Park, Volcano Mist Cottage offers you the simple understated luxuries of space, tranquility, rest and privacy. Please enjoy the quiet beauty, warmth and spirit that surrounds you in this magical existence … if you open your senses and listen closely, perhaps you will hear the mist.
~ Janet & Paul
owners & keepers of the sanctuary